For maximum compatibility, the audio files downloaded from Arkaven come as mp4 "video" files because while they are technically m4b files, many applications (like WinAmp) won't recognize them or play them well, and calling them mp4 results in a "least wrong" default that will still play the audio.
In either case, since these are your files that you download - and back up if you're smart - you can't just spin up an "audible" app to download and listen to them in one easy place.
The good news is that Arkhaven has an excellent guide to get you started. Nevertheless, there are a few additional options.
First though, I utterly and completely second the option of MusicBee as an audiobook player in Windows. While setting it up to handle and organize your music library can take a bit of work, it's pretty straightforward to set it up with a dedicated, watched "import" folder, and in concert with how it handles duplicates, organize a fairly large music collection. With it's help, I finally got all of my music that had been ripped, matched, or purchased unencrypted from Apple or Amazon copied out, sorted, and backed up.
Second - if you have a player that understands .m4b such as iTunes, MusicBee, or Bookmobile, the recommended iPhone app, I recommend you go ahead and change the file extension. Macs will show them by default, you'll have to make them visible in Windows. In my experience it maximizes compatibility of the app reading the cover art, tags, Author, and chapters. The one exception is transferring in from cloud storage such as OneDrive or Dropbox where I've had Bookmobile import .mp4's just fine sans art and chapter marks, but crash when the file extension was .m4b from Onedrive.
Update: this may be an artifact of what app is handing an .m4b over to Bookmobile - it consistently crashed with Onedrive, I'll have to try it with Dropbox, but when passing an .m4b to Bookmobile from locally stored files such as a copy downloaded from my NAS, it worked fine. I've modified the instructions to suit.
Cloud Storage and Locally Downloaded Files
I'll cover local/cloud files first. Most cloud storage apps such as Onedrive and Dropbox allow you the option to open a file in another app via the "share" icon that looks like a square with an arrow pointing up out of it - and Bookmobile is registered as an app for .mp4  and .m4b files. When you add any application to Bookmobile this way, you'll see a dialog asking if it's a new book or being added to an existing one.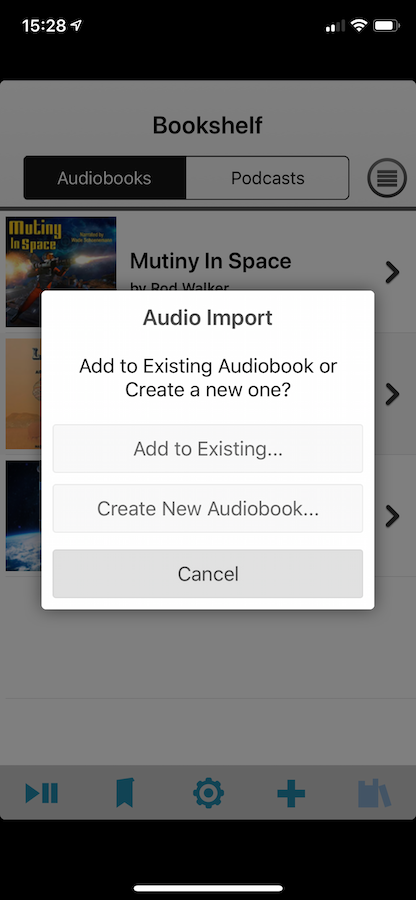 Then you'll be asked to title the book. If importing an .m4b you'd leave these blank, but Bookmobile doesn't read tags from .mp4 files well, so enter a title, etc. if importing an .mp4.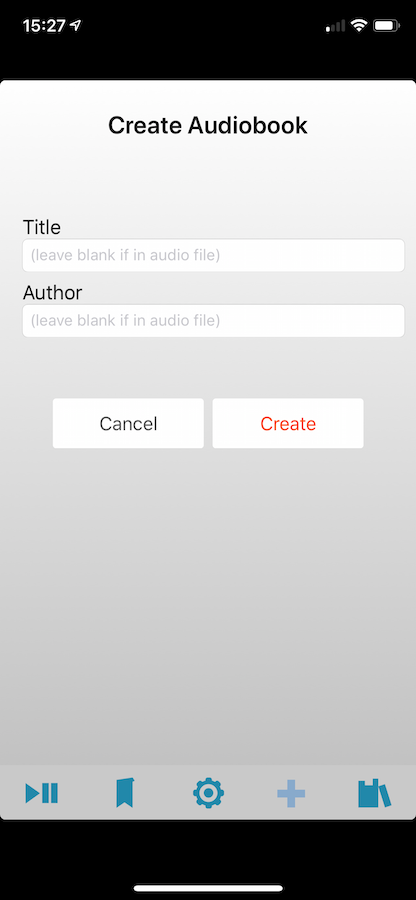 Web Browser
The second option is platform independent in terms of Mac/Linux/Windows but requires you change the file extension as the uploader will not accept .mp4 files and of course requires you be on the same network. In bookmobile select the "+" to add books, and select the icon for using your web browser. You'll see a screen such as the one below.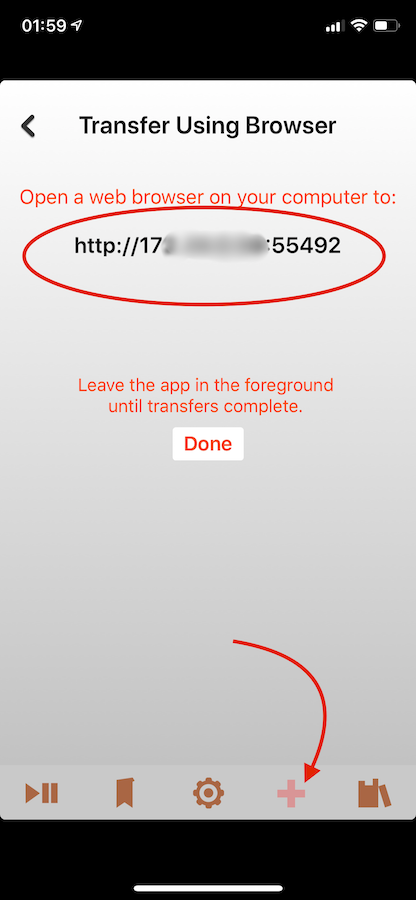 Enter that into your web browser, and you'll get a form asking if you want to append a file to an existing book (such as when you have an audiobook composed of mulitple files) or a new book. Do not enter a title here. Select "New" and the next screen will ask you to select the files. Select the renamed .m4b file and you'll see a progress bar in your browser, and an upload indicator on your mobile device.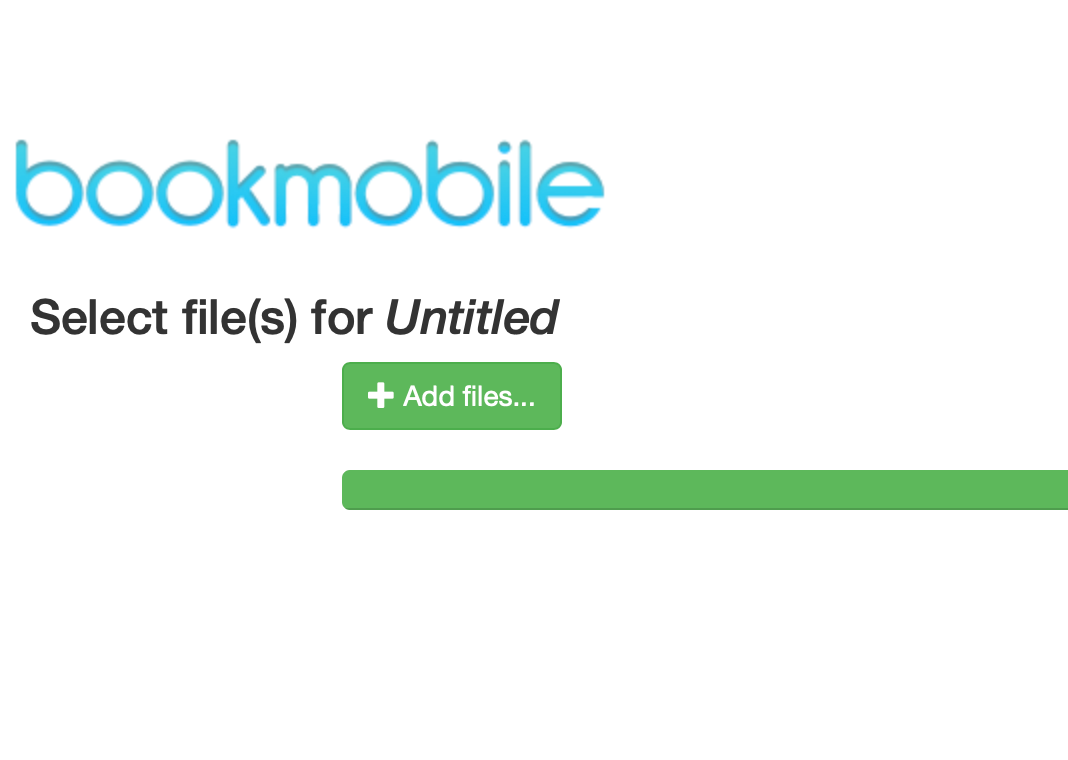 Airdrop
The last option requires you to have a Mac, or at minimum a second Apple device. Airdrop is usually on as an option but you may have to enable it if you've disabled it. You can select the file in the Finder, then select the sharing icon, then the Airdrop option. If your devices are on the same network, they will see each other and you can then send the file to the other device. If tied to the same iCloud account it should not ask for permission, otherwise you'll have to accept the file.
More on Airdrop in general, here: Use AirDrop on your iPhone, iPad, or iPod touch.

After the file is transferred, your iPhone/iPad will ask what app should open/receive the file.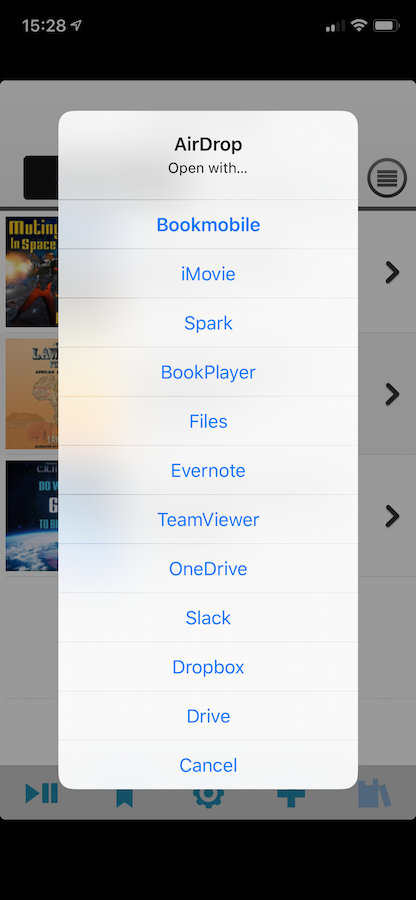 Then you'll be asked again if it's a new book or being added to an existing book. Add it as a new book (unless it's actually an addition to an audiobook with multiple files...), and if an .m4b keep the name of the book and author blank.
Library
When done, your library in Bookmobile should look like this: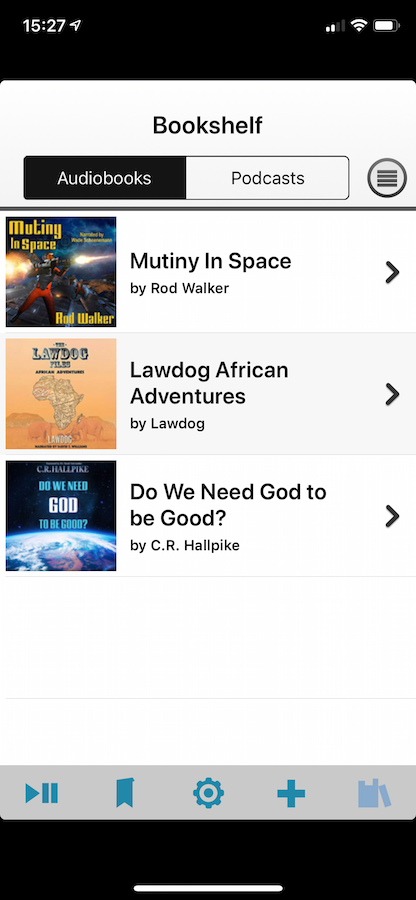 And an individual book will look like this: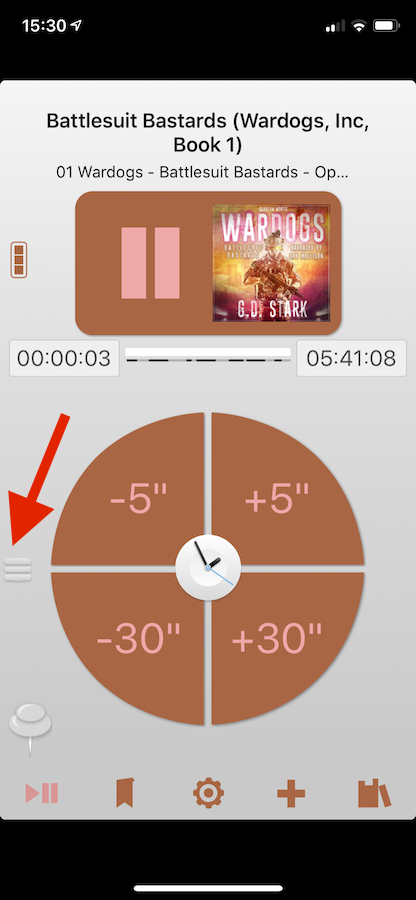 The little tab on the left lets you switch between modes such as car, skip seconds, skip minutes, and sleep timing. The gear reaches not only the settings but playback speed and bluetooth/external sound destinations.